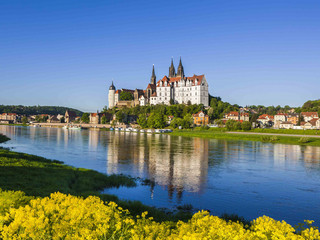 Meissen Albrechtsburg Castle is Germany's first castle complex the fortifying character of which faded in favor of becoming a representative place of residence. Being Germany's oldest castle, Meissen Albrechtsburg Castle was a trendsetter in its time of construction. Its overwhelming architectural solutions in the late-Gothic style have always been marveled at by contemporaries.
After, in 929, King Henry I had had a wooden fortress built on a rock towering above the Elbe, Meissen became the center of the march of the same name bordering on the eastern territories still under Slavic control. The margrave ruled over the entire Margraviate of Meissen and resided in the previous building of Meissen Albrechtsburg Castle which was to go down in history as »the cradle of Saxony«.
Opening hours

Monday:

Closed

Tuesday:

Closed

Wednesday:

Closed

Thursday:

Closed

Friday:

Closed

Saturday:

Closed

Sunday:

Closed
Admission prices
Full rate :

10,00 EUR

Reduced rate : i

8,00 EUR
Benefits with the schloesserlandCARD
Permanent exhibition
Free admission to the permanent exhibition

Special exhibition
Reduced rates apply to enter special exhibition

Arrival & map
Next City: Dresden (27 km)
Arrival information:
Nearest city: Dresden (27 km)
Information on how to get there:
By car:
Highway A4 Exit Siebenlehn, continue along Federal Road B101, or Exit Wilsdruff;
Highway A13: Exit Radeburg
Highway A14: Exit Nossen-Ost;
Coming from Dresden, use Federal Road B6
By bicycle:
The Elbe River cycle path passes directly at the foot of the castle hill from where the Meissen Albrechtsburg Castle and the Cathedral are signposted.
Dresden Airport:
Towards Boxdorf – Reichenberg – Moritzburg – Auer – Weinböhla – Meißen. Dresden Airport is about 30 km from Meißen
Sightseeing tour through Meißen:
Between April and October, a bus runs every 30 minutes serving the stops at Albrechtsburg Castle/Cathedral, the Market Square and the Porcelain Manufactory. The modern buses can seat 13 passengers, including a space for a wheelchair. You can opt for the small or the grand tour and learn something about the history of the town.
More information at: City-Bus Meißen of Oberelbe Tours
By steamboat:
Parking facilities:
Cars can be parked by the Elbe River, with direct access to the castle via the castle stairs from Leipziger Straße and also from the foot of the castle hill in Meisastraße, where there is also a multi-level carpark and an elevator up to the castle.
Easy ascent:
An elevator with a panoramic view eases the ascent to the castle.
Information about the Albrechtsburg