The late-Gothic Meissen Albrechtsburg Castle towers majestically over the picturesque Elbe River valley. Originating in the 15th century, it is deemed the oldest palace building in Germany. Over time, it adopted the role of a trendsetter, but not only in an architectural context. Visit the castle and allow yourself to be enchanted by its timeless beauty.
The focus is on its function as a place of representative residence. As Germany's oldest palace, the Meissen Albrechtsburg Castle was deemed a trendsetter already at its time of erection and made people awe for its outstanding architectural design in the late-Gothic style.
Opening hours
Subject to modifications.
The Exhibition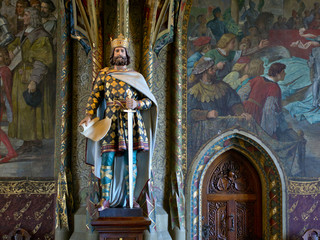 Since the emergence of the castle complex, the Meissen Albrechtsburg Castle has been considered a trendsetter. With its modern, interactive exhibition it comes up to this reputation.
All floors of the castle are open to the public today. The exhibition is divided into five sections and shows:
Its Fascinating Architecture

The Wettins as Residents and Rulers

The Albrechtsburg as a Residential Seat

The Albrechtsburg as a Production Site for Porcelain

A Painted Picture Book of the History of the Dynasty and of the State.
The exhibition thus meets the highest requirements of museum presentation.
Virtual enactments, interactive media stations complete the exhibition architecture and allow visitors to immerse themselves in the history of the Meissen Albrechtsburg Castle.
Here you can find all information about the permanent exhibition.