High above the Elbe Valley, a wooden (and later stone) fortress was built in the year 929: Meissen Albrechtsburg Castle. It's seen as the »Cradle of Saxony«, where the Wettins peered down on their subjects.
Arnold of Westphalia converted the structure into Germany's first castle in 1471. The representative building's architecture is still an impressive reminder of the power vested in the former rulers. When the first European porcelain manufactory moved to the castle at the behest of Augustus the Strong in 1710, the »white gold« began its triumphant march from Meissen to the rest of the world. Saxon history, innovative architecture and strokes of genius are now brought to life through interactive exhibits, augmented reality formats and 3D presentations.
The Exhibition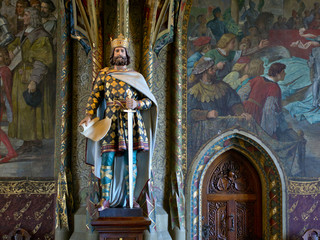 Since the emergence of the castle complex, the Meissen Albrechtsburg Castle has been considered a trendsetter. With its modern, interactive exhibition it comes up to this reputation.
All floors of the castle are open to the public today. The exhibition is divided into five sections and shows:
Its Fascinating Architecture

The Wettins as Residents and Rulers

The Albrechtsburg as a Residential Seat

The Albrechtsburg as a Production Site for Porcelain

A Painted Picture Book of the History of the Dynasty and of the State.
The exhibition thus meets the highest requirements of museum presentation.
Virtual enactments, interactive media stations complete the exhibition architecture and allow visitors to immerse themselves in the history of the Meissen Albrechtsburg Castle.
Here you can find all information about the permanent exhibition.