The exhibition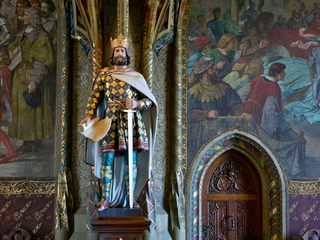 Since the emergence of the castle, the Meissen Albrechtsburg Castle is considered a trendsetter. With its modern, interactive exhibition it up to its reputation.
All floors of the castle are open to the public today.
he exhibition is divided into five sections and Shows:
The

fascinating architecture

The

Wettiner as inhabitants and rulers

The

Albrechtsburg as a residence

The

Albrechtsburg as a production of porcelain

A painted

picture book of Dysten- and History
The exhibition thus meets the highest museum presentations.
Virtual design, interactive media stations complete the exhibition architecture and let the visitor in the history the Meissen Albrechtsburg Castle plunge.
Majestic presence the late Gothic Meissen Albrechtsburg Castle on the picturesque Elbe Valley. Originated in the 15th century, it is the oldest castle in Germany. Over time, she worked not only in terms of architecture as a trendsetter. Let yourself be enchanted by its timeless beauty when visiting the castle.
The focus is the representative living. As Germany's oldest castle, the Meissen Albrechtsburg Castle seemed already to their formation time as a trendsetter and enabled the people with its outstanding architectural design in the late Gothic style in amazement.
Opening hours
March to October
daily: 10:00 am - 6:00 pm
November to February
daily: 10:00 am - 5:00 pm
Dec 24/25: closed
Jan 1: 11:00 am - 4:00 pm
Subject to modifications.