Meissen Albrechtsburg Castle »Trendsetter since 1471«
By building the Meissen Albrechtsburg Castle, Arnold von Westfalen constructed a masterly edifice whose architectural solutions and concepts of design are still marveled at today. When, in 1710, Augustus the Strong decided to house the first European porcelain manufactory in the castle, the Meissen Albrechtsburg Castle became widely known all over Europe. Today, the castle intrigues us by a modern, innovative exhibition involving virtual arrangements and interactive multi-media terminals, once again proving to be a real »trendsetter«
The five exhibition areas
At the centre of power – and always one step ahead of the spirit of the age
Saxony and the Wettins have belonged together since the Middle Ages. The dynasty ruled until 1918 at the heart of Europe. Embark on a journey back in time and discover Germany's oldest castle, the ancestral seat of the Wettins.
The Genial Stroke of Meissen Albrechtsburg Castle – An Architectural Aha-experience
Unlike other major projects in their time, Albrechtsburg Castle did not grow over many building stages, but as a holistic design of the master builder Arnold von Westfalen. From 1471 on, it was he who created a real trendsetter for late-Gothic architecture.
Residing in the castle – what it could have been like
Any castle has its secrets. And we do not pretend to know everything. But what everyday life in the Albrechtsburg could have been like in the late 15th century can very well be recreated – and experienced!
Experiment and Manufacture – Meissen Albrechtsburg Castle as the First European Porcelain Manufactory
Two years after the discovery of porcelain, Augustus the Strong initiated the foundation of the first European porcelain manufactory at the Meissen Albrechtsburg Castle. The castle became the basis for the triumphant march of the »White Gold«.
A »Painted Picture Book« of the History of the State – The 19th Century
At the end of the 19th century, after the porcelain manufactory had moved out, Wilhelm Rossmann, Privy Court Councillor, developed his artistic design concept for the entire castle. Its core idea: »a painted picture book« of the history of the dynasties and of the state. Since 1881, when the Meissen Albrechtsburg Castle was reopened as a museum, it has showed its visitors historical events displayed in monumental murals. Thus, it refers to its significance as a central memorial site of Saxon identity.
Admission:
Full rate 12,00 EUR
Reduced rate 10,00 EUR
Opening hours
Subject to modifications.
people with disabilities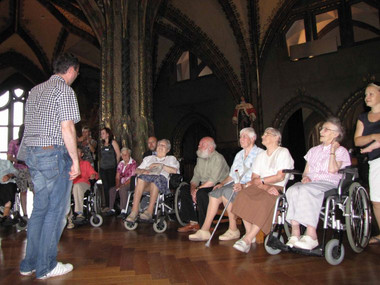 Meissen Albrechtsburg Castle
Domplatz 1 | 01662 Meißen
Property of State Palaces, Castles and Gardens of Saxony, non profit
+49 (0) 3521 4707-0
albrechtsburg@schloesserland-sachsen.de