Arrival & map
Next City: Dresden (27 km)
Arrival information:
Nearest city: Dresden (27 km)
Information on how to get there:
By car:
Highway A4 Exit Siebenlehn, continue along Federal Road B101, or Exit Wilsdruff;
Highway A13: Exit Radeburg
Highway A14: Exit Nossen-Ost;
Coming from Dresden, use Federal Road B6
By bicycle:
The Elbe River cycle path passes directly at the foot of the castle hill from where the Meissen Albrechtsburg Castle and the Cathedral are signposted.
Dresden Airport:
Towards Boxdorf – Reichenberg – Moritzburg – Auer – Weinböhla – Meißen. Dresden Airport is about 30 km from Meißen
Sightseeing tour through Meißen:
Between April and October, a bus runs every 30 minutes serving the stops at Albrechtsburg Castle/Cathedral, the Market Square and the Porcelain Manufactory. The modern buses can seat 13 passengers, including a space for a wheelchair. You can opt for the small or the grand tour and learn something about the history of the town.
More information at: City-Bus Meißen of Oberelbe Tours
By steamboat:
Parking facilities:
Cars can be parked by the Elbe River, with direct access to the castle via the castle stairs from Leipziger Straße and also from the foot of the castle hill in Meisastraße, where there is also a multi-level carpark and an elevator up to the castle.
Easy ascent:
An elevator with a panoramic view eases the ascent to the castle.
Experience the castle hill from its green side: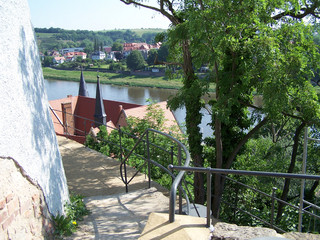 The »Obere Promenadenweg« (Upper Promenade Path) leads along the outer walls of the Granary, the Albrechtsburg and the Cathedral up to the steps to the Local Court. Pleasant views over the Elbe River valley and Meißen's Old Town are granted.
Due to construction works on the façade, there will be restrictions in using the path during 2017.
Ticket rates
Full rate 8,00 EUR
Reduced rate 6,50 EUR
Ticket rates for the permanent exhibition
Full rate: EUR 8.00
Reduced rate: EUR 6.50
Group rate (15 people and more): EUR 6.50 per person
Children 6 - 16 years: EUR 1.00
Group rate for school students (15 people and more): EUR 1.00 per person
Annual ticket: EUR 16.00
Reduced annual ticket: EUR 8.00
Audio guide included (German, English, Czech, French, Italian, Polish, Russian; children's audio guide in German) or a written guide for people with hearing impairment.
Reduced rate with Culture Passport Elbe/Labe.
Combined ticket: Meissen Albechtsburg Castle and Meissen Porcelain Manufactory
Full rate: EUR 15.00
Reduced rate: EUR 10.00
Combined ticket: Meissen Albrechtsburg Castle and Meissen Cathedral
Full rate: EUR 11.00
Reduced rate: EUR 7.00
The combined ticket is valid for three days in a row.
Guided tours:
1 h: EUR 3.00 pp
1.5 h: EUR 4.50 pp
Free admission:
Children aged 5 or younger
People visiting the castle on their birthday
Accompanying adults of severly disabled people (entry »B« iin the disability pass)
Tour guides
Tour bus drivers accompanying a tour group
1 accompanying adult per 10 pupils
Journalists for reporting purposes (valid identification required)
Holders of the schloesserlandPASS
Photo permit
Subject to modifications.
Opening hours
March to October
daily: 10:00 am - 6:00 pm
November to February
daily: 10:00 am - 5:00 pm
Dec 24/25: closed
Jan 1: 11:00 am - 4:00 pm
Jan 13 to Jan 24: closed
Subject to modifications.