The »Cradle of Saxony«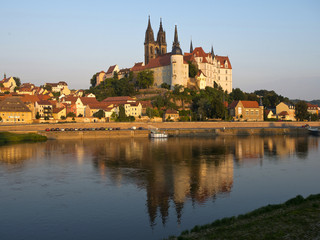 In 929, King Henry I had a wooden fortress built on a rock towering above the Elbe. This made Meissen the center of the march of the same name bordering on the territories to the east that were still under Slavic control. The margrave ruled over the entire Margraviate of Meissen and resided in the predecessor building of Meissen Albrechtsburg Castle which was to go down in history as »the cradle of Saxony«.
Germany's First Palace Arises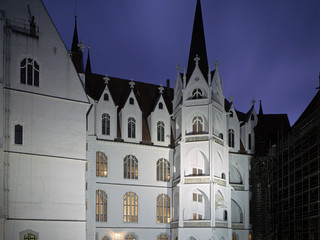 The late-Gothic castle complex – the Meissen Albrechtsburg Castle – was built between 1471 and 1524 on behalf of the two brothers, Ernest and Albert of Wettin, who jointly ruled Saxony. The new residence was to become a representative administration center and residential palace at the same time. It did not really serve defense purposes anymore, but was rather meant to be a palace – the first of its kind in German architectural history.
An Architectural Masterpiece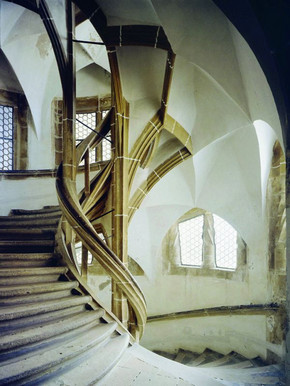 The newly appointed state master builder Arnold von Westfalen was commissioned with the new, generously laid out building. Due to the steep slopes down to the river, the basement had to stretch over two floors, followed by the ground floor and three upper floors. Especially the sophisticated guidance of light through the arched curtain windows and the cellular vaulting applied anywhere throughout the castle were architectural novelties. The large spiral staircase is a masterpiece in stairwell design, a staircase made of curved steps winding around a spindle of filigree design. What was also innovative were the walls growing thicker upwards, and some technical installations, such as the chimney drafts, partly hidden in the walls.
On the way to Europe's first porcelain manufactory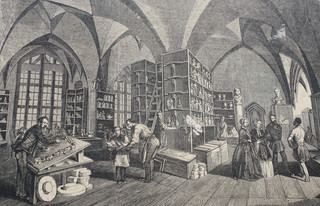 However, the Meissen Albrechtsburg Castle was never to be used in its originally intended function, for – still during its construction stage – the brothers split the Wettin territory. On some occasions, receptions were held there or hunting parties hosted. Most often, however, the castle remained unused. Only Augustus the Strong came to actively use the Albrechtsburg in 1710 – as Europe's first porcelain manufactory.
A manufactory becomes a museum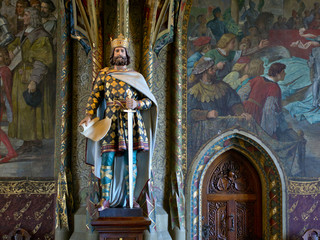 Porcelain was made for 153 years at Albrechtsburg Castle until, in 1863, production moved out of the Gothic rooms. Extensive restoration was to revive their original Gothic appearance and remove the severe damage that had been done by its use as a manufactory.
Creation of the Murals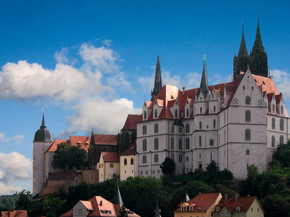 Additional money from the reparations France had been made to pay for the German-French War allowed for the new artistic design of the palace. Murals were created from 1873, mainly topicalizing historical events at the castle, of the March of Meissen, of the Wettins and of the emergence of the »White Gold«. Apart from the murals intentionally created in the style of the time, ornamental decoration in Gothic style was applied by Professor Ernst Haendel from Weimar. This was complemented by historically true furniture, flooring and doors as well as weaponry, candelabra, ovens and fireplaces.
Meissen Albrechtsburg Castle
Domplatz 1 | 01662 Meißen
Property of State Palaces, Castles and Gardens of Saxony, non profit
+49 (0) 3521 4707-0
albrechtsburg@schloesserland-sachsen.de
Opening hours
March to October
daily: 10:00 am - 6:00 pm
November to February
daily: 10:00 am - 5:00 pm
Dec 24/25: closed
Jan 1: 11:00 am - 4:00 pm
Jan 13 to Jan 24: closed
Subject to modifications.
Ticket rates
Full rate 8,00 EUR
Reduced rate 6,50 EUR
Ticket rates for the permanent exhibition
Full rate: EUR 8.00
Reduced rate: EUR 6.50
Group rate (15 people and more): EUR 6.50 per person
Children 6 - 16 years: EUR 1.00
Group rate for school students (15 people and more): EUR 1.00 per person
Annual ticket: EUR 16.00
Reduced annual ticket: EUR 8.00
Audio guide included (German, English, Czech, French, Italian, Polish, Russian; children's audio guide in German) or a written guide for people with hearing impairment.
Reduced rate with Culture Passport Elbe/Labe.
Combined ticket: Meissen Albechtsburg Castle and Meissen Porcelain Manufactory
Full rate: EUR 15.00
Reduced rate: EUR 10.00
Combined ticket: Meissen Albrechtsburg Castle and Meissen Cathedral
Full rate: EUR 11.00
Reduced rate: EUR 7.00
The combined ticket is valid for three days in a row.
Guided tours:
1 h: EUR 3.00 pp
1.5 h: EUR 4.50 pp
Free admission:
Children aged 5 or younger
People visiting the castle on their birthday
Accompanying adults of severly disabled people (entry »B« iin the disability pass)
Tour guides
Tour bus drivers accompanying a tour group
1 accompanying adult per 10 pupils
Journalists for reporting purposes (valid identification required)
Holders of the schloesserlandPASS
Photo permit
Subject to modifications.