The cradle of Saxony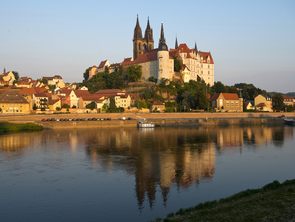 After, in 929, King Henry I had had a wooden fortress built on a rock towering above the Elbe, Meissen became the center of the march of the same name bordering on the eastern territories still under Slavic control. The margrave ruled over the entire Margraviate of Meissen and resided in the previous building of Meissen Albrechtsburg Castle which was to go down in history as »the cradle of Saxony«.
Germany's first castle arises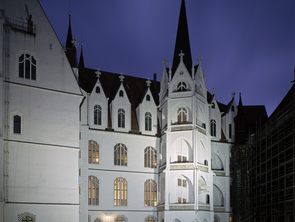 Meissen Albrechtsburg Castle is Germany's first castle complex the fortifying character of which faded into the background in favor of becoming a representative place of residence. Being Germany's oldest castle, Meissen Albrechtsburg Castle was a trendsetter in its time. Its overwhelming architectural solutions in the late-Gothic style have already been marveled at by contemporaries.
An architectural masterpiece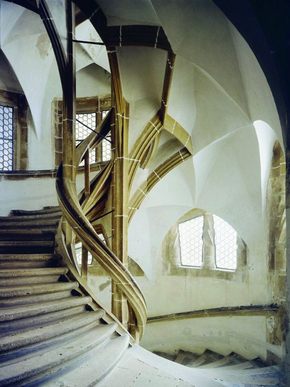 The palace building was erected between 1471 and 1524 by order of the Wettin brothers Ernst and Albrecht who jointly ruled over the Duchy of Saxony. Thereby, it was of prime importance to design the new representative administration center as a sign of power and wealth. Yet, the castle was also to serve as a stately residence and a place where two separate courts could be held.
The master builder Arnold von Westfalen was commissioned with the building. He created a castle that set European standards, a trendsetter in terms of architecture, unique in spatial structure, statics, vaulting as well as window and staircase design.
Opening hours
March to October
daily: 10:00 am - 6:00 pm
November to February
daily: 10:00 am - 5:00 pm
Dec 24/25: closed
Jan 1: 11:00 am - 4:00 pm
Subject to modifications.
Ticket rates
Full rate 8,00 EUR
Reduced rate 4,00 EUR
Ticket rates for the permanent exhibition
Full rate: EUR 8.00
Reduced rate: EUR 4.00
2 adults and up to 4 children: EUR 18.00
1 adult and up to 2 children: EUR 10.00
Group rate (15 people and more): EUR 6.50 per person
Group rate for pupils (10 people and more): EUR 3.00 per person
Annual ticket: EUR 16.00
Reduced annual ticket: EUR 8.00
Annual ticket for families: EUR 36.00
Audio guide (German, English, Czech, French, Italian, Polish, Russian; children's audio guide in German) included. Written guide for deaf people available.
Combined ticket: Meissen Albechtsburg Castle and Meissen Porcelain Manufactory
Full rate: EUR 14.00
Reduced rate: EUR 7.00
Family rate*: EUR 30.00
Combined ticket: Meissen Albrechtsburg Castle and Meissen Cathedral
Full rate: EUR 10.00
Reduced rate: EUR 5.50
Family rate*: EUR 25.00
The combined ticket is valid three days in a row.
Guided tours:
1 h: EUR 3.00
1.5 h: EUR 4.50
Free admission:
Children aged 5 or younger
People visiting the castle on their birthday
Accompanying adults of severly disabled people (entry »B« iin the disability pass)
Tour guides
Tour bus drivers accompanying a tour group
1 accompanying adult per 10 pupils
Journalists for reporting purposes (valid identification required)
Holders of the schloesserlandPASS
Photo permit
Subject to modifications.