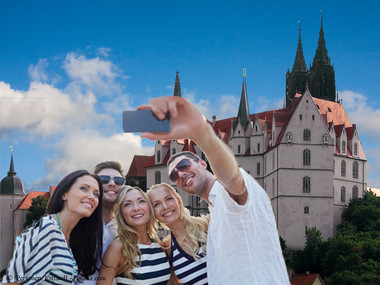 More offers for group tours

in Schloesserland Saxony
Are you looking for more destinations and special group tour offers for active holidaymakers and hikers? There are further great deals from us in Schloesserland Sachsen!
More informations
A bus parking area is located at the foot of the castle hill, directly on the Elbe river bank.
Parking is available
directly at the foot of the castle hill, where there are pockets for passengers to get on and off
Please note: Use of the carpark at one's own risk. No liability is assumed for any damage caused by other vehicles or for possessions left in the car.
Explore the Meissen Albrechtsburg Castle individually with an audio guide, or book a guided tour.
Please book tours two weeks in advance. We will be pleased to give advice about the tours on offer.
We offer tours in the following languages:
•German
•English
•French
•Russian
•Italian
•Polish
•Japanese
Combined tours
Combined guided tour Porcelain Manufactory & Albrechtsburg Castle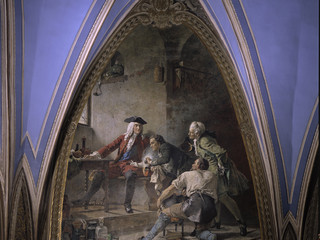 More than 300 years ago, the first European porcelain manufactory was founded at Meissen Albrechtsburg Castle. True works of art were created here for over 150 years, and the "White Gold" started its triumphant march from Meissen to conquer Europe and the whole world. Travel groups can have a combined visit to where "Haus Meissen" is located today, with its showroom workshops and museum, and to Albrechtsburg Castle.
A tour guide will take you to both sites – accompanying you either by bus or on foot through the romantic old town. You choose where to start.
| | |
| --- | --- |
| Minimum number of participants: | 15 people |
| Time: | Any time, by advance booking |
| Duration: | 3 hours |
| Prices: | Admission: 30,00 EUR |
Combined Guided Tour Cathedral & Albrechtsburg Castle
»SPACE-SOUND-PRINCELY SPLENDOR«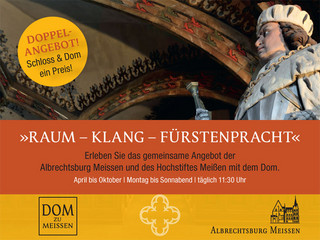 From April to October, after the guided tour of the Cathedral, there is a pause for music. You can listen to the noon chimes from the Cathedral organ and then visit Meissen Albrechtsburg Castle
| | |
| --- | --- |
| Time: | April to October |
| | Mon - Sat 11:30 |
| | Sun, no guided tours on religious holidays |
| Duration: | 1.5 hours |
| Prices: | Admission: 14,50 EUR |
| | Reduced admission *: 12,50 EUR |
»HEAVENLY FORTRESS AND PRINCELY SPLENDOR«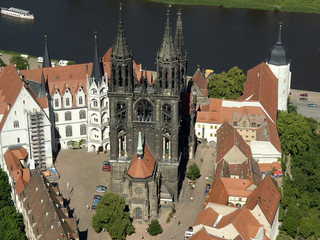 Visit the Meissen Cathedral between November and March and learn more about Albrechtsburg Castle.
No organ music will be played during the off-season.
| | |
| --- | --- |
| Time: | November-March |
| | Mon - Fr 2:00 am |
| | Sat 11:00 pm to 2:00 pm |
| | No guided tours on Sundays or religious holidays |
| Duration: | 1 hour |
| Prices: | Admission 12,50 EUR |
| | Reduced rate *: 10,50 EUR |
People with disabilities